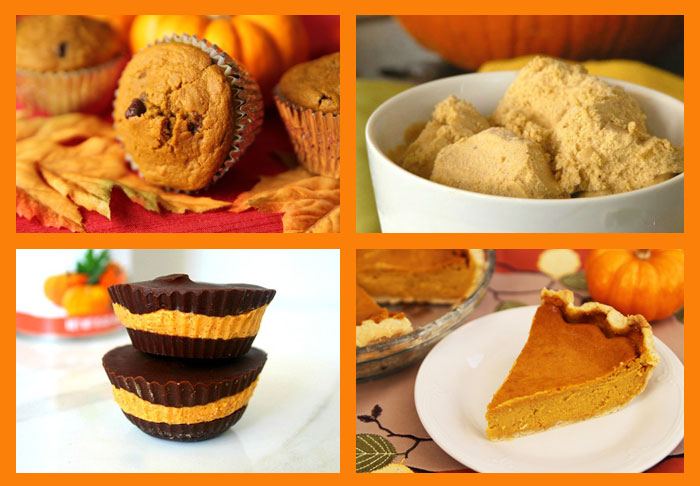 Pumpkin season is here and there is no shortage of delicious recipes! All of these recipes use coconut in some fashion, whether it be coconut oil, shredded coconut, coconut cream concentrate (aka coconut butter), coconut milk, or coconut flour. Many are going to be free of allergens like gluten and dairy, and each recipe will be noted as such. This allows even those on restricted diets to participate in the festivities and enjoy some delicious treats this holiday season.
Pumpkin Recipes Featuring Coconut and Coconut Oil
Creamy Pumpkin Pie
Do you need a good pumpkin pie recipe for Thanksgiving that doesn't contain sweetened condensed milk? This pie is super creamy, not too sweet, the spices won't punch you in the face, and you're going to love it. Just don't forget the whipped cream.
Pumpkin Pie (gluten and dairy free)
Try this pumpkin pie recipe when you need one that's both gluten free, wheat free, and dairy free. It's packed with coconut oil, coconut milk, and coconut flour, sweetened with honey, and easy to make!
Pumpkin Tart (gluten and dairy free)
This no bake gluten free pumpkin tart is also dairy free and made with coconut oil and coconut milk. If you're looking for a dessert to impress your friends with food allergies, this is the one!
Pumpkin Nut Butter Cups (gluten and dairy free)
A new twist on a classic nut butter cup! Get in the mood for fall with these fancy, yet easy to make autumn themed homemade pumpkin nut butter cup candies made with coconut oil!
Pumpkin Cheesecake Bars (gluten free)
If you're looking for rich, creamy pumpkin cheesecake bars, look no further. This recipe is gluten free and features a delicious shortbread crust made with coconut flour.
Coconut Cream Pumpkin Cheesecake (gluten free)
This gluten free coconut cream pumpkin cheesecake is made with dried coconut, coconut cream concentrate, coconut flour, and coconut oil, yielding a deliciously creamy dessert packed with coconutty goodness.
Pumpkin Delight Muffins (gluten and dairy free) 
These gluten free pumpkin delight muffins are filled with fun splash of summer flavor in the bright blackberry jam, making them a fun treat on a cold fall or winter day.
Coconut Flour Pumpkin Muffins (gluten free)
These coconut flour pumpkin muffins are fast and easy to make, and are topped with a rich and creamy icing. Topped with some toasted coconut, they are sure to impress your guests!
Pumpkin Chocolate Chip Muffins
These pumpkin chocolate chip muffins combine two flavors that are just meant to go together — pumpkin and chocolate. These hearty muffins make a great breakfast on the go or a quick snack on a busy day.
Pumpkin Chocolate Chip Bars (gluten and dairy free)
These pumpkin chocolate chip bars are a fantastic fall themed dessert or snack, and these are easy to make. The coconut cream concentrate gives these bars a creaminess while still keeping them dairy free.
Pumpkin Spice Cookies (gluten and dairy free)
Nothing says the holidays like delicious cookies! These pumpkin spice cookies are full of spice and topped with a creamy, dairy-free icing made with coconut cream concentrate. A perfect addition to any sweet treat gift basket.
Oatmeal Pumpkin Coconut Cookies (dairy free)
These Oatmeal Pumpkin Coconut Cookies are another classic cookie that could be made gluten free, as long as you use certified gluten free oats. Raisins or dried cranberries at a pop of flavor to this spiced cookie.
Pumpkin Gingerbread
A breakfast or snack is not complete during the holidays without a slice of pumpkin bread or gingerbread. This pumpkin gingerbread recipe combines the two classic flavors into one. The result is an incredible moist bread with all the ginger, pumpkin spice flavor you'd expect.
Pumpkin Bread (gluten and dairy free)
This gluten free pumpkin bread is rich in flavor and is made with almond and coconut flours. This bread makes a hearty snack and tastes even better when topped with a bit of whipped grass-fed butter!
Pumpkin Cranberry Pecan Cider Bread (dairy free)
If you're looking for a little something different, this pumpkin cranberry pecan cider bread might be perfect. The classic pumpkin bread flavor pairs perfectly with apple cider and tart cranberries, yielding a bread that is a little out of the ordinary, but no less delicious!
High Protein Pumpkin Spice Cake (gluten free option)
The holidays are busy and if you're on the run, but want to make sure you have a filling breakfast and snack on hand, then this high protein pumpkin spice cake is a keeper. This moist cake will keep you feeling full and energized. Use buckwheat flour for a gluten free version.
Pumpkin Spice Granola (gluten and grain free)
This grain free pumpkin spice granola makes a delicious breakfast or snack. Filled with lots of coconut, nuts, and seeds, it is filling, satisfying, and not overly sweet. Keep a container of this in your car or purse for a quick snack on the run.
Pumpkin Spice Cream of "Wheat" (gluten and dairy free)
Nothing warms the body on a cold winter day than a bowl of classic cream of wheat. This gluten free pumpkin spice cream of "wheat" is completely grain free and made with a secret ingredient that most people may never guess!
Pumpkin Ice Cream (gluten and dairy free)
Rich, creamy dairy free pumpkin ice cream is the perfect way to end a meal. Delicious on its own, or as a topping on another holiday dessert, this ice cream is sure to please even the pickiest palates.
Coconut Pumpkin Custard (gluten and dairy free)
If you're looking for a rich, creamy dessert, but don't want ice cream, this coconut pumpkin custard is perfect. This custard is easy to make and tastes delicious topped with fresh whipped cream and a sprinkle of toasted coconut.
Pumpkin Butter Truffles (gluten and dairy free)
Truffles are another classic holiday sweet, and these pumpkin butter truffles add a little more holiday cheer to your traditional candy. These would be a perfect addition to your sweet treat gift boxes.
Maple Cinnamon Roasted Pumpkin (gluten and dairy free)
This maple cinnamon roasted pumpkin recipe takes slices of sweet pie pumpkin and roasts it with maple syrup and cinnamon. A dash of salt, pepper, and cayenne take this delicious side dish to a whole new level.
Pumpkin Curry Soup (gluten and dairy free)
Warm up on a cold winter day with a bowl of this pumpkin curry soup. This soup will make the perfect appetizer or a side for your holiday meals.
For more delicious kitchen-tested recipes that are proven to work, check out our Gallery of Coconut Oil Recipes and Coconut Oil Uses. You can also visit our Gluten-Free Holiday Coconut Sweet Treat Guide for even more dessert ideas. And, if that's not enough, we encourage you to visit the Free Coconut Recipes website for hundreds more coconut recipes.
Virgin Coconut Oil:
How it has changed people's lives and how it can change yours!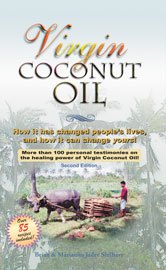 Includes 85 recipes – Free shipping available!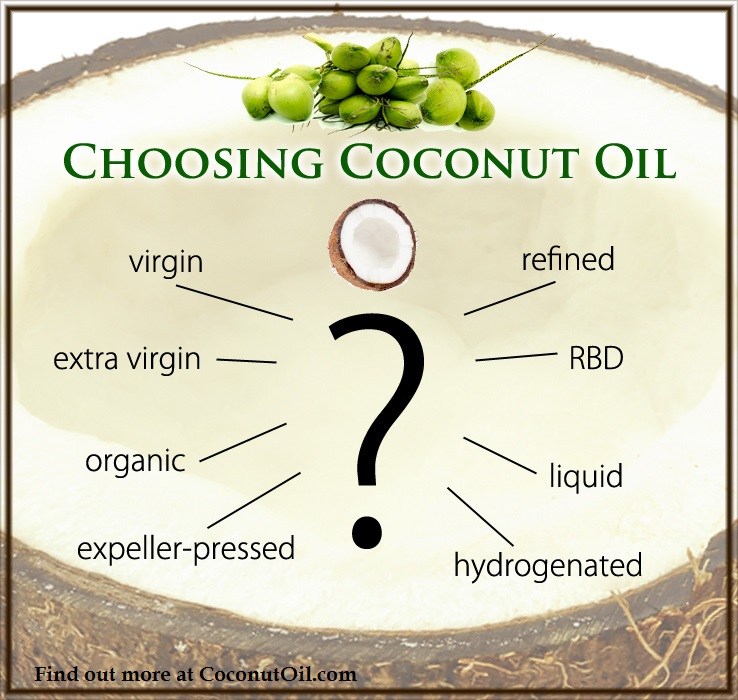 Published on October 18, 2013