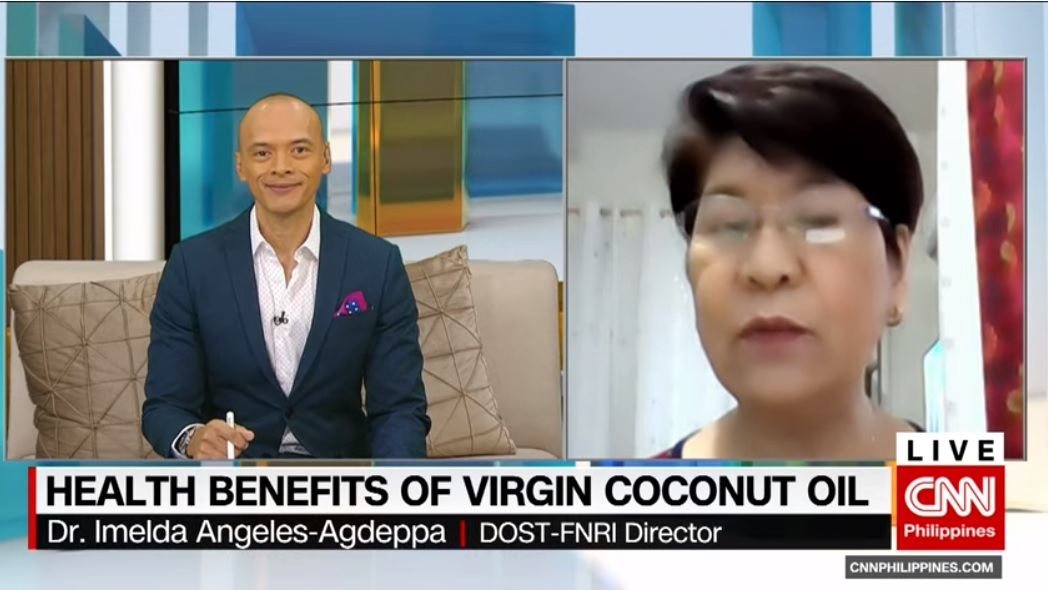 by Brian Shilhavy
Editor, Health Impact News
Dr. Imelda Angeles-Agdeppa, the director of the Department of Science and Technology's Food and Nutrition Research Institute in the Philippines, was recently interviewed by CNN-Philippines about a study she led comparing COVID patients who ate a regular hospital diet, with patients who ate the exact same diet but supplemented with Virgin Coconut Oil, according to their body weight.
She reported that at the end of 28 days, all of the patients who received the Virgin Coconut Oil supplementation exhibited no more symptoms of COVID-19.
This is an interesting study, because the results depended upon COVID symptoms, and not faulty PCR test results, such as those that were used for the COVID mRNA vaccine trials.
Here is the Philippine Government write-up on the study.
Virgin coconut oil (VCO) study results on COVID-19 suspect and probable cases released by DOST-FNRI
Results of the study on virgin coconut oil (VCO) as dietary supplement among COVID-19 probable and suspect cases showed that 5 of the 29 patients who were served meals with VCO manifested diminishing signs and symptoms as early as the second day, while only one patient served with the same meals but without VCO showed similar improvement.
This is according to the Department of Science and Technology's Food and Nutrition Research Institute (DOST-FNRI) in a virtual presser dubbed as "Seeing Beyond COVID-19: The VCO Study – Effects of Virgin Coconut Oil among Suspect and Probable Cases" on December 3, 2020.
The VCO Group of patients who were served meals with VCO showed no COVID-19 related symptoms at Day 18, while symptoms persisted in some patients of the Control Group of patients who were served the same meals without VCO until Day 23, DOST Secretary Fortunato T. dela Peña further stated in the presser.
Secretary dela Peña added that VCO could be used as an adjunct supplement to probable and suspect COVID-19 cases to help prevent symptoms from becoming severe.
However, more studies are needed to determine the effectiveness of VCO as adjunct therapy for COVID-19 patients with other co-morbidities, Secretary dela Peña clarified.
In a follow-up interview, Dr. Imelda Angeles-Agdeppa, VCO study leader, Scientist II and Chief Science Research Specialist of DOST-FNRI, said that the study involved 57 suspect or probable COVID-19 cases randomly assigned to the Intervention or VCO Group and the Control Group at the Santa Rosa Community Hospital and Santa Rosa Community Isolation Units in Laguna.
Dr. Agdeppa added that aside from monitoring the signs and symptoms of COVID-19 among the study volunteers, the research team also noted that the mean C-Reactive Protein of CRP levels in the VCO Group normalized to 5 milligrams per liter or less as early as Day 14.
The C-Reactive Protein or CRP is a quantitative marker used to monitor inflammation or infection, and that a CRP equal or less than 5 milligrams per liter signifies recovery from inflammation or infection, Dr. Agdeppa explained.
Dr. Agdeppa further stated that while reduction to normal CRP levels in the Control Group was also evident from Day 1 to 14, it remained at the borderline of 5 milligrams per liter from Day 14 until end of intervention.
The VCO used in the study were strictly analyzed by the Laboratory Services Division of the Philippine Coconut Authority (PCA) to ensure product quality and compliance to Philippine National Standard (PNS).
The PCA requests VCO producers to have their VCO samples analyzed by PCA prior to promotion and marketing, PCA Administrator Benjamin R. Madrigal, Jr. said in the presser.
Administrator Madrigal also states that PCA is planning to develop the protocol in establishing the seal of quality for VCO.
Funding and monitoring of the VCO study was provided by the DOST-Philippine Council for Health Research and Development (or PCHRD), through the overall supervision and motoring of the DOST.
The Ateneo de Manila University Faculty of Chemistry, through Dr. Fabian M. Dayrit, provided research inputs and protocols based on previous VCO studies among HIV patients, like the correct VCO dosages to be given and the analysis to be used.
Dr. Dayrit, also an Academician of the DOST-National Academy of Science and Technology and President of the Integrated Chemists of the Philippines, supported the results of the DOST-FNRI VCO study, saying that several studies have proven the promising anti-viral properties of VCO and more studies are warranted to explore its full potential.
The public is hereby advised to carefully read the label of VCO products to check for PCA or FDA approval and make sure that ingredients, nutrient analysis, manufacturing and expiration dates are clearly declared.
Some media partners attending the presser commented that this development on VCO as promising dietary supplement may cause the skyrocketing of the price of VCO products.
The study team agrees with this inevitable consequence, but stated that the health benefits backed by scientific proof far outweigh the impending price increase, adding that DTI will monitor this.
This VCO study does not only have promising contribution to the prevention and management of symptoms among COVID-19 suspect and probable cases, but could also provide a boost to the coconut industry and the millions of coconut farmers who depend on the "tree of life" to uplift their quality of life.
About the author: Unlike many people who write about coconut oil by simply reading about it, Brian Shilhavy actually lived in a coconut producing area of the Philippines for several years with his family, observing firsthand the differences between the diet and health of the younger generation and those of his wife's parents' generation still consuming a traditional diet. This led to years of studying Philippine nutrition and dietary patterns first hand while living in a rural farming community in the Philippines. Brian is the author of the best-selling book: Virgin Coconut Oil: How it has changed people's lives and how it can change yours!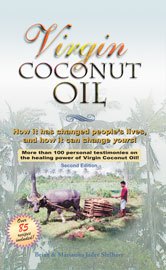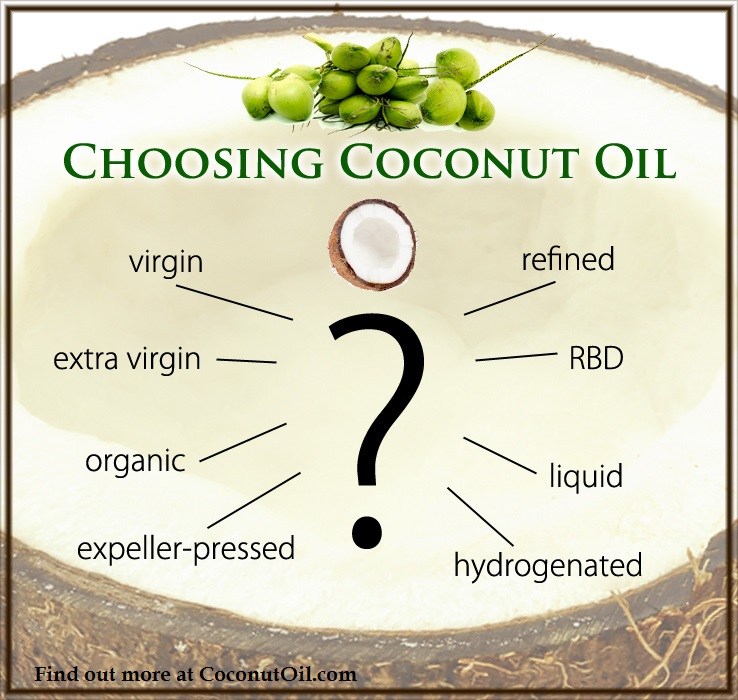 Published on February 21, 2021