Giving coconut to your pet is an excellent health decision and can improve your pet's quality of life, but there is a right way and wrong way to start supplementing your dog or cat's diet with coconut oil.
Start slow and increase gradually.
When beginning to supplement your pet's diet with coconut oil, start slow and increase gradually. Giving too much coconut oil too soon can cause digestive and detox issues.
Because coconut oil kills bacteria, viruses, parasites, yeasts, and fungi, your pet may respond negatively to the detox aspect of taking coconut oil. Signs of detoxing too rapidly may include lethargy, headaches, flu-like symptoms, fatigue, and diarrhea.
Large amounts of coconut oil given to a dog can cause diarrhea or greasy stools while his body adjusts to the change in diet. Start with small amounts, such as ¼ teaspoon per day for small dogs or puppies and 1 teaspoon for large dogs, or even just a dab if your dog's constitution is sensitive. If your dog seems tired or uncomfortable or has diarrhea, just cut back the amount temporarily. Gradually increase the amount every few days. If your dog seems tired or uncomfortable or has diarrhea, reduce the amount temporarily. It may also be helpful to give the small amounts of coconut oil in divided doses throughout the day.
Coconut oil is best given with food. Solid or liquid coconut oil can be added to food at any meal. Solid coconut oil can easily be melted quickly in hot water.
Feeding Guidelines
A general guideline for the optimal dose for dogs is about 1 teaspoon per 10 pounds of body weight daily or about 1 tablespoon per 30 pounds, but don't start with these amounts in the beginning!
Most cats also love the taste of coconut oil and will eat it without a problem. As with many similar supplements, if your cat won't eat it in her food, just put a dab of coconut oil on her paw before or after meals. She'll lick it off and get it that way.
We humans can benefit from coconut oil by using it for cooking in place of other oils. It is also taken orally by mouth as a diet supplement and used on skin. A good strategy for humans is to use coconut and palm oils for cooking, and olive (a heat-sensitive oil with a low smoke point) and flax oils for cold dressings. This trategy will help increase your levels of healthy Lauric Acid, Omega-3, and GLA fatty acids while lowering your intake of Omega-6 and junk oils. Some experts recommend that we consume a 3:1 ratio of Omega-6s to Omega-3s. The average American diet provides a ratio of 15:1 and often 30:1. Some oils, such as olive, create harmful substances as a result of overheating.
If you cook your own pet food, coconut oil would be an excellent addition to the recipe.
Most dogs like the taste of coconut oil so you won't have trouble feeding it to them.
Coconut Oil for Pet Skin Problems
If you wish to apply topically to use coconut oil to treat a rash, wound or dry skin, but they try to lick it off, try wrapping the skin in a rag or towel for a few minutes to let the oil soak in before they get a chance to lick it off.
Different brands of coconut oil will have different tastes ranging from a bland taste, to a strong coconut taste, to a more buttery taste. You can experiment with the oil your pet finds most pleasing.
Read the Full Article Here: http://www.allnaturalpethealth.com/how_to_feed_coconut_oil.html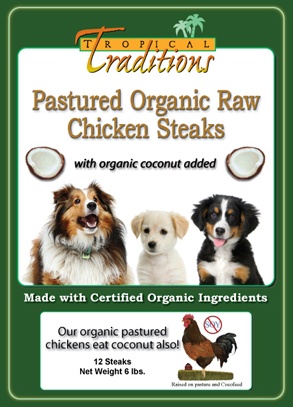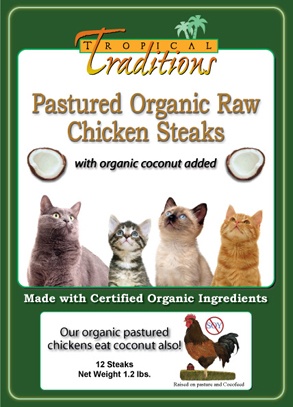 Learn More about Pet Steaks with Coconut!
Published on April 26, 2012