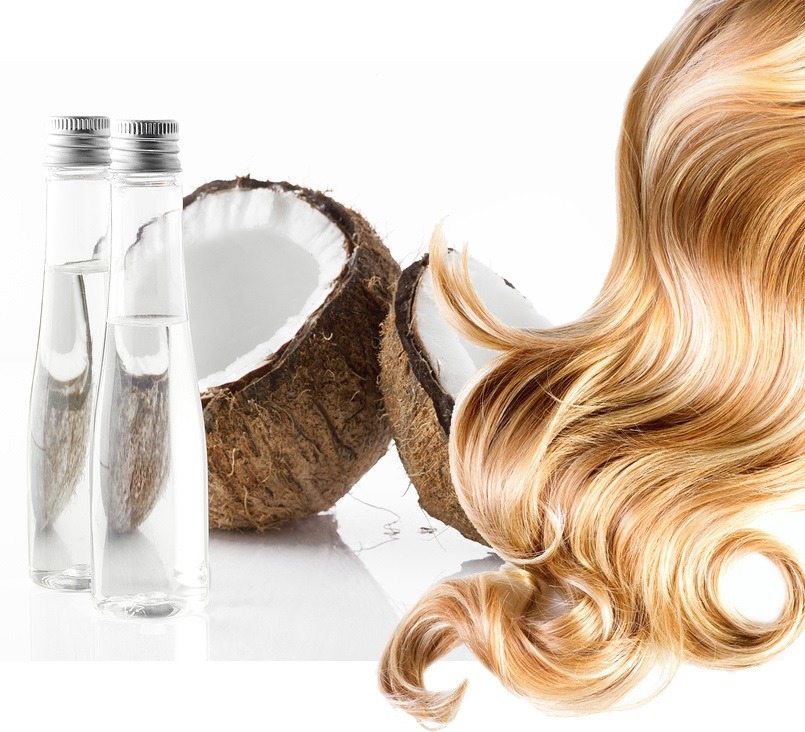 Coconut Oil Hair Treatment
In India, a whole coconut oil industry has survived in recent years among the anti-saturated fat/coconut oil propaganda almost entirely for one application: the conditioning of hair. This is the number one reason why people in India buy coconut oil today, to condition and nurture their hair.
Studies in India have been done on how effective various oils are on treating damaged hair. One study compared mineral oil, sunflower oil, and coconut oil because these were the three most commonly used oils in hair treatment products used in India. The aim of this study was to cover different treatments, and the effect of these treatments on various hair types using these three oils, and the number of experiments to be conducted was a very high number and a technique termed as the "Taguchi Design of Experimentation" was used. Their results:
The findings clearly indicate the strong impact that coconut oil application has to hair as compared to application of both sunflower and mineral oils. Among three oils, coconut oil was the only oil found to reduce the protein loss remarkably for both undamaged and damaged hair when used as a pre-wash and post-wash grooming product. Both sunflower and mineral oils do not help at all in reducing the protein loss from hair. This difference in results could arise from the composition of each of these oils. Coconut oil, being a triglyceride of lauric acid (principal fatty acid), has a high affinity for hair proteins and, because of its low molecular weight and straight linear chain, is able to penetrate inside the hair shaft. Mineral oil, being a hydrocarbon, has no affinity for proteins and therefore is not able to penetrate and yield better results. In the case of sunflower oil, although it is a triglyceride of linoleic acid, because of its bulky structure due to the presence of double bonds, it does not penetrate the fiber, consequently resulting in no favorable impact on protein loss.1
In the short time I have internally consumed and topically applied the Virgin Coconut Oil, I as well as others, have noticed a significant difference in my skin tone, as well as how shinny my hair has become. Recently my husband asked me what I had done differently to my hair because it was so shinny! The skin on my entire body has become softer and more subtle. I know this is a result of the Virgin Coconut Oil because I haven't been using any body lotion. I couldn't be more thrilled! C. Morgan – South Bend, IN
First I purchased coconut oil for cooking, and now I've purchased it for my body and my hair. After just one deep conditioning treatment with coconut oil, my hair is softer (by far!) and shiny. This is a miracle product! Barbara – La Mesa, CA
In recent years, coconut oil has been popularly used for natural hair treatment with African hair types. Audrey Sivasothy, a writer on the Yahoo associatedcontent network, has done research on "Black Hair Care" and notes that coconut oil is an excellent choice for a pre-treatment before the hair is shampooed, as well as an excellent sealant on dry hair. She writes: "Many black women suffer from hair porosity issues as a result of our styling choices. Coconut oil's ability to prevent protein loss and reduce hair porosity makes it a valuable oil for those who chemically relax, regularly heat straighten, or permanently color their hair." Those in the "natural hair" movement have repeatedly testified to the benefits of switching from harsh chemical treatments to pure coconut oil. Their testimonials in public places like Twitter are very numerous. Sivasothy comments:
Coconut oil is a very unique hair oil. This versatile, low molecular weight oil is able to leverage its traditional oil status to seal the hair, but complements this sealing capacity with a strong affinity for hair proteins not found in other hair oils. Coconut oil benefits black hair in two important ways. First, coconut oil's hydrophobic oil characteristics allow it to inhibit the penetration of water from the surrounding air and environment. Second, coconut oil is able to bind to the natural protein structure of the hair. This helps the hair retain its natural moisture content and reinforces the hair fiber, making it stronger.2
One of the most popular hair treatments for Black Hair, referred to as a "natural relaxer," gained widespread popularity on Youtube in 2008. This treatment utilizes Virgin Coconut Oil, Coconut Cream Concentrate, and plain yogurt. Coconut Cream Concentrate is ground up whole dried coconut in a concentrated form. It is high in fat and the protein from the coconut fiber. Here is the main video that started the popularity of this treatment:
In this video a lady from England shows how to detangle hair with coconut oil as a prewash:
Coconut Oil for Dry Scalp
Many have also reported wonderful results from dry scalp conditions.
I have three children, 4, 2, and 3 months and they ALL get it on their skin. Along with our skin, we use it for our hair and scalp. My youngest son had very dry scalp (cradle cap) and the coconut oil healed it in two days. It was wonderful! Amy Falls Church, VA
My mom had been suffering for the past 4 months with a very red, dry, peeling scalp. It moved to her neck and hands….the pain was so bad she would sometimes cry. She tried using every dandruff/dry scalp shampoo on the market and would put various substances on her scalp nightly in the hopes of hydrating it. She would even leave these items on her head for days at a time. She tried crisco, baby oil, olive oil, jojoba oil, and every dry skin lotion out there but nothing helped…it just got worse. The doctors did not know what it was and were trying to get her to take medicine orally and to experiment with different cremes consisting of steroids. I just happened to be reading up on the coconut oil and suggested that she try it before the using the items that the doctors were tying to give her. After ordering your product, I gave some to her. She messaged the coconut oil into her scalp and left it on overnight. When she woke up the next morning, 95% of the dry skin was gone and almost all of the redness. When my mom told the doctor what had helped, he didn't believe her as her scalp, hands, and forehead were so bad. It  has been over a month now, and you can hardly tell she ever had any skin problems. Praise God! Michelle – Tucson, AZ
I not surprised, but I had to respond because it has been two days since I used the Virgin Coconut oil, and I am completely astounded. I applied it straight on my scalp and the results are unbelievable. I have tried everything from sulfer 8 to prescription medicine such as grisofluvin. I had this problem for almost a year. I even had to cut my locks off my head which was so hard to do. This product is unreal. Its has only been two days and I have no more dandruff. I use to wake up with dandruff. I hope this isn't some kind of gimmick, because I am so impressed. I went to the doctors on Thursday of this week. He told me to us a shampoo called Ioul T. I went to Rite Aid to see if they had it but they were out. I came home read my Kevin Trudue book and it referred me to your web site. I researched the product and read the testimonies and I am just so happy that my scalp infection is almost gone within two days. I wish I had a before and after shot because I would send you a picture. Thank you so much for this product, and believe me I am going to tell as many people as I can about this amazing product. Paris – Middle River , MD
Head Lice
A study done in 2010 in the UK and reported in the European Journal of Pediatrics tested the effectiveness of a coconut and anise spray against head lice as opposed to permethrin lotion. Permethrin lotion, the most commonly prescribed pediculicide for treating head lice, is reportedly losing its effectiveness in many places around the world in curing head lice. The study found that the coconut and anise spray was "significantly more successful" than the permethin lotion in curing head louse infestation.3
The folk method of getting rid of head lice in Hawaii is to soak the hair thoroughly with vinegar and leaving it to dry. Do not rinse out. Then coat the hair with the coconut oil and sleep with it on. The nits will comb out easily.. Linda – Coconut Diet Forums
I came to this forum accidentally and I am so amazed to learn that our very own coconut oil from the Philippines is doing miracles to people around the world. When I was a child, I observed my mom and grandma how they make the coconut oil and I can say that I have memorized it by heart. One experience that I saw was when my baby sister had wounds all over her head due to lice. The wounds got infected and my mom had no choice but to cut my sister's hair off. Once again, she warmed the coconut oil and put a little salt in it, and she used a cotton ball to apply the oil over the infected wounds. In the morning, the wounds were dry and itchiness was gone. From then on, coconut oil has become our medicine for wounds. When I was a teen-ager, I used coconut oil for my hair to make it shiny and beautiful, but I stopped using it because it has an obvious smell and my classmates would tease me. During those days, the smell of coconut oil has a symbol status, it means that you belong to the lower class, in other words, I am poor…how sad. J – Coconut Diet Forums
Coconut oil indeed has many benefits for your hair!
References
1. Rele AS, Mohile RB. "Effect of mineral oil, sunflower oil, and coconut oil on prevention of hair damage." Journal Cosmetology Science 2003 Mar-Apr;54(2):175-92.
2. "The Benefits of Coconut Oil in Black Hair Care – How Coconut Oil Can Bring Out the Best in Your Hair" Audrey Sivasothy, Yahoo! Contributor Network
Feb 2, 2010
3. Burgess IF, Brunton ER, Burgess NA. "Clinical trial showing superiority of a coconut and anise spray over permethrin 0.43% lotion for head louse infestation" European Journal Pediatrics. 2010 Jan;169(1):55-62
Original source: http://www.coconutdiet.com/coconut_oil_healthy_natural_hair.htm

About the author: Unlike many people who write about coconut oil by simply reading about it, Brian Shilhavy actually lived in a coconut producing area of the Philippines for several years with his family, observing firsthand the differences between the diet and health of the younger generation and those of his wife's parents' generation still consuming a traditional diet. This led to years of studying Philippine nutrition and dietary patterns first hand while living in a rural farming community in the Philippines. Brian is the author of the best-selling book: Virgin Coconut Oil: How it has changed people's lives and how it can change yours!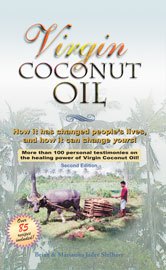 Published on April 1, 2012