I love using natural products for all of my personal care, cleaning and household needs, but if you're not ready to jump on the DIY deodorant and toothpaste bandwagon just yet, at least consider using all natural products on your kids!
Most kids are exposed to a scary number of chemicals on a daily basis, and even babies are born with chemicals in their umbilical blood. Most baby products and shampoos contain chemicals and many are not actually safe for baby. For example, many baby shampoos (including J&J) have some of the worst chemical ratings and baby oil is just liquid petroleum oil with some added (artificial) fragrances.
A baby or child's perfectly soft skin absorbs almost anything put on it, so natural options are really important! There are a few companies who make natural baby care options, but the cheapest, easiest and most natural way is just to make your own. Actually, you can just use pure coconut oil for everything from cleaning to moisturizing to treating diaper rash, but if you'd prefer a little variation, check out these recipes!
These are the recipes I use on my own kids and give to friends when they have babies.
Natural Diaper Cream-Cloth Diaper Safe!
We started cloth diapering with our third child and I will never go back! Not only is it much cheaper, but it is more natural and much easier than I expected after hearing horror stories from my mother-in-law about the old-school cloth diapers. Thanks to cloth diapers and better nutrition my babies very rarely get diaper rash, but for the occasional time when a baby poops during the night and doesn't wake up until morning or gets a rash while in the car seat on a trip, it can be a little tougher with cloth diapers.
Commercial diaper cream should never be used with cloth diapers since the fish oil in it will leave a fishy smell no matter how much you wash the diapers. It will also void any warranty on the cloth diapers. After much research and some trial and error, I finally created a diaper cream that is cloth diaper safe and that works as well as the medicated versions.
It can be used directly with cloth diapers if you don't mind stripping the diapers after using them, but I prefer just to line the diaper with a piece of an old t-shirt when I'm using diaper cream to avoid the extra laundry hassle.
Ingredients:
1/2 cup coconut oil
1 tablespoon calendula flowers (optional but very helpful)
1 tablespoon chamomile flowers (optional but very helpful)
1/4 cup shea butter
optional: 1 tsp arrowroot or zinc oxide powder or more to thicken if needed- these will add additional drying power for really bad rashes
How to Make Natural Diaper Cream
Heat a couple inches of water over medium high heat in a double boiler or small sauce pan. Melt the coconut oil in a glass bowl or double boiler top above the boiling water. Add the calendula and chamomile flowers and keep the heat going on low/medium for at least an hour or until coconut oil has started to turn yellow and smells of chamomile and calendula. Make sure to check the water level often and make sure it hasn't gotten too hot or evaporated off.
Carefully strain the flowers out, reserving as much of the coconut oil as possible. A fine mesh metal strainer is best for this, or a cheesecloth will work, though you'll lose more of the coconut oil. Make sure all visible pieces of the flower have been removed.
Using a small immersion blender or even a fork to mash, mix the infused coconut oil with the shea butter and arrowroot or zinc oxide if using until it forms a thick paste. I actually have a small food processor I use for this mixture (and not for food) and when mixed in a food processor it makes an airy, velvety cream.
Store in a small glass jar and apply as needed. Use a liner with cloth diapers. This is much more concentrated and effective than store-bought versions and a little goes a really long way! It can also be used for adult yeast infections or for  healing of the perineum postpartum.
Why These Ingredients?
I chose each of these ingredients for a specific purpose. Coconut oil is very effective on its own for treating rash, as it is anti-fungal and very soothing to skin.
Calendula has antibacterial properties and speeds skin healing while Chamomile has anti-bacterial, anti-fungal, anti-inflammatory and anti-parasitic properties and is especially helpful for diaper rashes.
Shea Butter, besides making the skin incredibly soft, has anti-fungal and yeast-killing properties when raw. It is high in Vitamins A and E and helps promote collagen production in the skin. It is naturally anti-inflammatory and has an SPF of 6. It also helps prevent and get rid of stretch marks.
Vitamin Rich Baby Oil
Regular baby oil is petroleum based and packed with artificial fragrances! You can always use plain coconut oil, but making an infused oil adds some vitamins and speeds skin healing. This is my favorite:
Ingredients:
1 cup of Coconut Oil
2 tablespoons calendula flowers
2 tablespoons chamomile flowers
What to Do:
Heat a couple inches of water over medium high heat in a double boiler or small sauce pan. Melt the oil in a glass bowl or double boiler top above the boiling water. Add the calendula and chamomile flowers and keep the heat going on low/medium for at least an hour or until oil has started to turn yellow and smells of chamomile and calendula. Make sure to check the water level often and make sure it hasn't gotten too hot or evaporated off." and then just strain the flowers out and use as regular baby oil.
Super Smooth Baby Lotion and Lotion Bars
I've used my basic homemade lotion recipe on all of our kids and it is gentle enough for baby skin. Here's the basic recipe:
Organic Homemade Lotion Basic Ingredients:
1/2 cup almond or olive oil (can infuse with herbs first if desired)
1/4 cup coconut oil
1/4 cup beeswax
Optional: 1 teaspoon Vitamin E oil
Optional: 2 tablespoons Shea Butter or Cocoa Butter
Optional: Essential Oils, Vanilla Extract or other natural extracts to suit your preference
How to Make Lotion:
1. Combine ingredients in a pint sized or larger glass jar. I have a mason jar that I keep just for making lotions and lotion bars, or you can even reuse a glass jar from pickles, olives or other foods.
2. Fill a medium saucepan with a couple inches of water and place over medium heat.
3. Put a lid on the jar loosely and place in the pan with the water.
4. As the water heats, the ingredients in the jar will start to melt. Shake or stir occasionally to incorporate. When all ingredients are completely melted, pour into whatever jar or tin you will use for storage. Small mason jars (8 ounce) are great for this. It will not pump well in a lotion pump!
5. Use as you would regular lotion. This has a longer shelf life than some homemade lotion recipes since all ingredients are already shelf stable and not water is added. Use within 6 months for best moisturizing benefits.
Note: A litte goes a long way! This lotion is incredibly nourishing and is also great for diaper rash on baby, for eczema and for preventing stretch marks!
I also recently discovered that homemade lotion bars are an even better option and are very protective on baby's skin but still allow it to breathe. You can add chamomile or calendula to the oils if you want, but the basic lotion bars work excellent, especially on babies with sensitive skin or eczema. They are even easier to make, last longer and are fun for kids to use too. They have a natural SPF of about 7.
Here's the recipe…
Organic Homemade Lotion Bar Ingredients:
1 part coconut oil
1 part shea butter, cocoa butter or mango butter (or a mix of all three equal to 1 part)
1 part beeswax (can add an extra ounce or two if you want a thicker consistency, which leaves less lotion on the skin when used)
optional: Vitamin E oil to preserve. I added 1 tsp vitamin E oil for  this recipe made with 1 cup of each ingredient)
This recipe can be adjusted to make any quantity that you'd like. I made with 1 part=1cup so I used 1 cup of coconut oil, 1 cup beeswax and 1/3 cup each of shea butter, cocoa butter and mango butter (though I could have used 1 cup of any of the individual ones). I also added about 50 drops of lavender essential oil. I set them in silicon baking cups though any mold or shape would work. The recipe I used made exactly 12 lotion bars.
How to Make:
Combine all ingredients in a quart size glass mason jar  and place this in a small saucepan of water until melted. This will save your bowl and you can just designate this jar for these type of projects and not even need to wash it out…
Turn the burner on and bring water to a boil. Stir ingredients constantly until they are melted and smooth:
Remove from heat and add the essential oils.
Gently stir by hand until essential oils are incorporated)
Carefully pour into molds or whatever you will be allowing the lotion bars to harden in. I used these silicon baking cups, though any mold would work.
Allow the lotion bars to cool completely before attempting to pop out of molds. These could be made in different shaped molds for different holiday gifts (hearts for valentines, flowers for Mother's day, etc) or made in a square baking pan and then cut into actual bars.
You can also just use plain coconut oil… tired of me saying that yet?
Natural Teething/Pain Relief
The most effective natural teething relief I've found is chamomile infused coconut oil. Babies love the taste of it and it stays on the gums better than most other remedies.
How to Make Natural Teething Gel:
Add 4 tablespoons of chamomile flowers to 1 cup of coconut oil (can adjust down if needed) and put in a glass jar that is placed in a small pot of water. I place a silicon mat between the pan and the jar to protect the jar.
Bring the water in the pan to a simmer and keep over low heat for several hours until the oil has taken on a yellowish color and chamomile smell. Carefully strain out the flowers using a cheesecloth and a strainer. Store in a wide-mouth jar.
For teething relief, rub on baby's gums as often as needed for relief.
More Ideas:
For more natural baby care recipes, check out my original post "7 Natural Baby Care Recipes" or my archive of natural living recipes.
Bio:
Katie is a happy housewife and work at home mom of four. She's a real food crusader dedicated to cooking healthy, whole-food recipes for her family and helping other families do the same. A lover of books, kettlebell junkie, scuba diver, and coffee addict who can finally do a pull up. Stop by and say hi at her blog: WellnessMama.com.
Virgin Coconut Oil:
How it has changed people's lives and how it can change yours!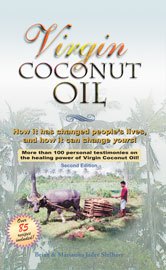 Includes 85 recipes – Free shipping available!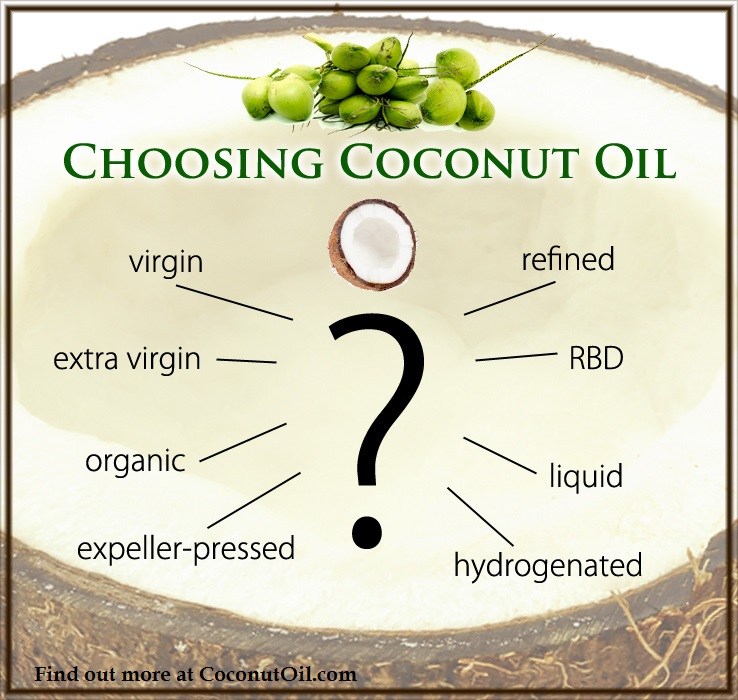 Published on October 30, 2012