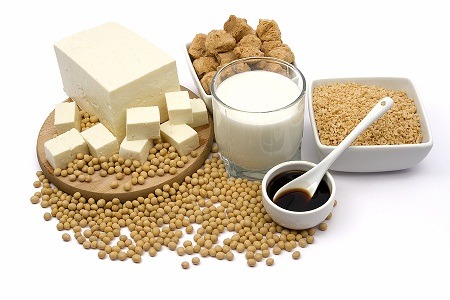 by MARCO TORRES
Prevent Disease
If we analyze the food guide and government advice on nutrition over a decade ago and compare those advisements to what is recommended today, there is one big difference–one specific food crept up onto the radar of public health officials as if it had some kind of miraculous nutritional benefit for the public. The problem is, [most] of this food is genetically modified, contains toxic phytochemicals and is linked to digestive distress, immune system breakdown, allergies, ADD and ADHD, higher risk of heart disease and cancer, malnutrition, and loss of libido. Yet, governments seem to think that's not a problem.
You've probably already figured out that the food is soy.
I'll get to how deadly soy is shortly, but first let's backtrack to the year 2000 and analyze the food guides of two countries, namely Canada and The United States.
The waybackmachine is a beautiful tool that can show us exactly what a website looked like in the past. So if we plug in both the USDA and Health Canada websites in the year 2000 at about the same period, we can see exactly how each publicly funded message translated to each respective food guide or pyramid.
In the Year 2000 
On the Health Canada website, there was absolutely no mention of soy at all. Under milk products, the main message was to choose lower-fat milk products more often. Most people had no idea back then how toxic pasteurized milk was, so it was heavily consumed, much more than it is today. There are currently huge debates throughout the internet as to why humans are drinking milk at all.

On the USDA website on either the Milk, Yogurt & Cheese page or the main page illustrating the Food Guide Pyramid, there is again no mention of soy. The recommendation was also low dairy.
So what happened?
In the Year 2013
Today, Health Canada promotes fortified soy beverages on their website for those who don't drink milk. So we go out of the frying pan and into the fire. We go from the recommendation of a dead liquid, namely pasteurized milk to a beverage that may be even more harmful to public health.

"Have milk or fortified soy beverages by the glass or use them in recipes."
"Use milk or fortified soy beverages when preparing scrambled eggs, hot cereal, casseroles and soups."
"Create smoothies by blending lower fat milk or fortified soy beverage with a combination of fresh or frozen fruits."
"Try a latte made with low fat milk or fortified soy beverage."
"Use milk or fortified soy beverages to replace some or all of the water when reconstituting canned tomato or cream soups."
The USDA's Center for Nutrition Policy and Promotion (CNPP), kicked their message into high gear in 2002 when they started heavily promoting soy across the United States. Their key message is still to switch to fat-free or low-fat milk, however consume calcium-fortified soy milk is a main heading.
"For those who are lactose intolerant… include lactose-reduced or lactose-free milk, yogurt, and cheese, and calcium-fortified soymilk (soy beverage)."
Under Tips For Vegetarians
"Sources of protein for vegetarians and vegans include beans, nuts, nut butters, peas, and soy products (tofu, tempeh, veggie burgers)."
"Sources of calcium for vegetarians and vegans include calcium-fortified soymilk"

"Calcium-fortified soymilk provides calcium in amounts similar to milk. It is usually low in fat and does not contain cholesterol."
"For breakfast, try soy-based sausage patties or links."
"try veggie burgers, soy hot dogs, marinated tofu or tempeh, and veggie kabobs."
The site is littered with soy recommendations not only for vegetarians, but also in the promotion of protein foods.
How did this happen? When soy industry lobbyists get together and decide to change the framework of nutrition for the masses, it happens. It's really that simple.
It's not only soy. If you care to investigate further, you'll also notice how three of the most toxic genetically modified oils in the world, canola, corn and soyabean oil are heavily promoted today on both the Health Canada website and the CNPP website(on behalf of the USDA), and neither agency had those recommendations in 2000.
The USDA had absolutely no mention of any of these oils in 2000.
Health Canada also has no mention of these oils in 2000.
How Deadly is Soy
With Monsanto's patented genes being inserted into roughly 95 percent of all soybeans and 80 percent of all corn grown in the U.S., the company used its wide reach to control the ability of new biotech firms to get wide distribution for their products, according to a review of several Monsanto licensing agreements and dozens of interviews with seed industry participants, agriculture and legal experts.
Soy protein is not an effective alternative to any other protein. It is high in allergens (some 28 different proteins present in soy have been found to bind to IgE antibodies). It's also worth noting that the more soy protein you eat, the more likely you are to develop allergies to it — and the more severe those allergies are likely to become.
As Dr. Spreen has pointed out, phytates in unfermented soy products actually obstruct absorption of protein and four key minerals: calcium, magnesium, iron, and zinc.
Even so, the public's perception of soy as health food got a boost from the FDA with a rule that permits soy beverages, soy-based cheese substitutes, and soy-based butter substitutes to be fortified with vitamin D.
In their natural form, soybeans contain phytochemicals with toxic effects on the human body. The three major anti-nutrients are phytates, enzyme inhibitors and goitrogens.
These anti-nutrients are the way nature protects the soybean plant so that it can live long enough to effectively reproduce. They function as the immune system of the plant, offering protection from the radiation of the sun, and from invasion by bacteria, viruses, or fungi. They make the soybean plant unappetizing to foraging animals. All plants have some anti-nutrient properties, but the soybean plant is especially rich in these chemicals. If they are not removed by extensive preparation such as fermentation or soaking, soybeans are one of the worst foods a person can eat.
The most common soy (99%) sold at major grocery retailers in soy milks and processed foods is unfermented soy. It is deadly. Unfermented soy has been linked to digestive distress, immune system breakdown, PMS, endometriosis, reproductive problems for men and women, allergies, ADD and ADHD, higher risk of heart disease and cancer, malnutrition, and loss of libido.
The dangers of soy for men are a result of the high levels of the female hormone estrogen that soy and soy-based products contain. Primarily, soy affects the quality and concentration of a male's sperm, especially if taken in large quantities or if the subject was exposed to high levels in the womb. A study at Harvard University showed that there was a definite correlation between men with low sperm counts and a high intake of soy foods. The study revealed that the average sperm concentration of 80 to 120 million per millimeter of an adult male was more than halved when soy formed part of the diet. The case is more compelling in the study of obese males whose sperm levels are even lower owing to the estrogen making properties of fat tissue.
When food is eaten, digestive enzymes such as amylase lipase and protease are secreted into the digestive tract to help break it down and free nutrients for assimilation into the body. The high content of enzyme inhibitors in unfermented soybeans interferes with this process and makes carbohydrates and proteins from soybeans impossible to completely digest. When foods are not completely digested because of enzyme inhibitors, bacteria in the large intestine try to do the job, and this can cause discomfort, bloating, and embarrassment. Anyone with naturally low levels of digestive enzymes such as elderly people would suffer the most from the enzyme inhibiting action of soy.
Groups most at risk of experiencing negative effects from the anti-nutrient properties of soy are infants taking soy baby formula, vegetarians eating a high soy diet, and mid-life women going heavy on the soy foods thinking they will help with symptoms of menopause.
Soybeans have a high content of goitrogens, substances that can block the production of thyroid hormone as well as cause goiter formation. Low thyroid activity plagues women in America, particularly middle-aged women. Thyroid hormone stokes the cellular furnaces, known as mitochondria. When thyroid production is low, energy levels as well as body heat are also low. Low thyroid level is what makes old people move so slowly and seem like every action is a huge chore. Low thyroid means the action of the heart is reduced, resulting in lack of oxygen to the cells, a prime condition for cancer.
Genistein, an isoflavone found in soybeans, can also block thyroid production. Phytate can accentuate these effects because it binds up zinc and copper, leaving little of these important minerals available to make thyroid hormone.
People filling up their shopping carts with raw or cooked soybeans, soy milk, and other non-fermented soybean products do not realize that the isoflavones they contain will not be available to their bodies. Most of the isoflavones in soy products are bound to carbohydrate molecules called glucosides. In this form genistein is actually called genistin. It is fermentation that transforms genistin into genistein. Many products in the U.S. do not distinguish between genistin and genistein on their labels.
Even with fermented soy foods, a little goes a long way. The nutrients found in miso, tempeh, and natto can be beneficial in the moderate amounts found in the typical Asian diet, but have the potential to do harm in higher amounts. In China and Japan, about an ounce of fermented soy food is eaten on a daily basis.
When fermented soy foods are used in small amounts they help build the inner ecosystem, providing a wealth of friendly microflora to the intestinal tract that can help with digestion and assimilation of nutrients, and boost immunity.

A study in an issue of Indian Journal of Medical Research suggests that eating soybean oil may boost cancer risk compared to eating a type of butter called cow ghee, a type of butter used in South Asian cuisine.

Soy Lecithin has been lingering around our food supply for over a century. It is an ingredient in literally hundreds of processed foods, and also sold as an over the counter health food supplement. Scientists claim it benefits our cardiovascular health, metabolism, memory, cognitive function, liver function, and even physical and athletic performance. However, most people don't realize what soy lecithin actually is, and why the dangers of ingesting this additive far exceed its benefits.
Soybean lecithin comes from sludge left after crude soy oil goes through a "degumming" process. It is a waste product containing solvents and pesticides and has a consistency ranging from a gummy fluid to a plastic solid. Before being bleached to a more appealing light yellow, the color of lecithin ranges from a dirty tan to reddish brown. The hexane extraction process commonly used in soybean oil manufacture today yields less lecithin than the older ethanol-benzol process, but produces a more marketable lecithin with better color, reduced odor and less bitter flavor.
In theory, lecithin manufacture eliminates all soy proteins, making it hypoallergenic. In reality, minute amounts of soy protein always remain in lecithin as well as in soy oil. Three components of soy protein have been identified in soy lecithin, including the Kunitz trypsin inhibitor, which has a track record of triggering severe allergic reactions even in the most minuscule quantities. The presence of lecithin in so many food and cosmetic products poses a special danger for people with soy allergies.
If you eat soy in any form, unless it's fermented and organic, you are risking your immediate and long-term health. Check your labels, check your ingredients and most of all stay away from anything that is heavily advertised with soy as being a health food.
If you haven't already figured it out, your government in not your ally when it comes to your health, so do as much research as possible, and cross reference every detail that comes out of public health education.
Sources: 
metrofarm.com
mercola.com
preventdisease.com
biophile.co.za
wisegeek.com
ndmnutrition.com
Read the Full Article Here: http://preventdisease.com/news/13/031913_Why-Do-Governments-Recommend-This-Toxic-Food-Today-When-They-Didnt-Over-A-Decade-Ago.shtml
The Whole Soy Story: The Dark Side of America's Favorite Health Food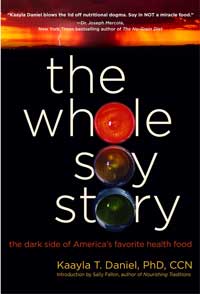 by Kaayla T. Daniel, PhD, CCN
Published on March 25, 2013