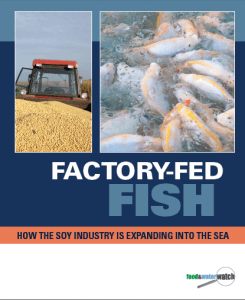 Comment by Brian Shilhavy: Very few people understand just how much soy is in our modern diets. As this report states: "From 1996 to 2009, the sales of foods containing soy increased from approximately $1 billion to almost $4.5 billion." Few people realize that factory-farmed livestock are dependent on soy as a source of cheap protein that promotes fast growth. Virtually no studies have been conducted on the effects all this soy has on the quality of these meats. Tropical Traditions is one of the few companies that worked with a poultry biologist at Ohio State University to determine that soy protein from chicken feed is passed into egg yolks and chicken tissue. (See: Soy protein present in egg yolks and chicken tissues) Thus, people looking to avoid soy in their diet are consuming it in foods where it is not listed as an ingredient. Now, the soybean industry is venturing into a new market: factory farmed fish.
Factory-Fed Fish: How the Soy Industry Is Expanding Into the Sea
In 2010, the CEO of the American Soy Association reported that the organization has been closely monitoring progress in the development of offshore fish farming legislation and meeting with congres­sional staff on the topic. In March 2011, it endorsed a controversial plan that would allow such fish farming or "aquaculture" in the Gulf of Mexico. In September 2011, a press release was issued announcing a new marine fish farm project that would "revolutionize sustainable agriculture." The source of the release? The Illinois Soybean Association.
Why are trade associations for an agricultural commodity that is grown on land involved in policies and marketing that affect the use and stewardship of our oceans?
Seafood is one of our last wild food sources. Fish are a vital part of many people's diets because of poten­tial health benefits, fresh taste and the connection that fish give us to our oceans and coasts. Around half of the world's seafood, however, now comes from farms rather than from the wild. In some of these farms, fish are grown in crowded, polluting cages and may be fattened on commercially prepared diets.
Feed has been one of the aquaculture industry's greatest challenges. Many of the species grown by the ocean finfish industry are highly valued carnivorous fish, which have typically been fed diets consisting of fishmeal and oil made from smaller, wild fish. The excessive use of wild fish to grow farmed fish can make aquaculture inefficient. Further, aquaculture has been accused of spurring the depletion of these small fish, which is problematic not only for their own populations, but also to the other animals that rely on them for food.
With little public scrutiny, soy has been hailed by some as a sustainable alternative to feed based on wild fish, thus supposedly solving some of the fish farming industry's sustainability problems.
In this report, the first to address the relationship between the soy and factory fish farming industries, Food & Water Watch reveals that, while the soy industry stands to make large profits from the expan­sion of factory fish farming, there is no guarantee that soy-based aquaculture feed can consistently produce healthy fish or promote ecological respon­sibility. In fact, by causing fish to produce excess waste, soy could lead to an even more polluting fish farming industry.
By supporting factory fish farming, the soy industry could not only help to expand an industry that degrades marine environments, threatens wild fish populations and damages coastal communities, it could also extend its own negative impacts. Already, industrial soy production has led to the prevalence of genetically modified crops on U .S. farmland and in consumer food-products, caused massive deforestation in South America and displaced indigenous communities living in areas now used to grow soy.
Rather than actually promoting sustainability in a developing industry, the involvement of soy associa­tions in aquaculture could spur the growth of two industries that have extremely negative impacts on our land, our oceans and the communities that depend on them.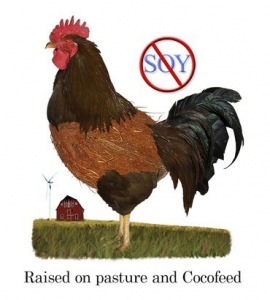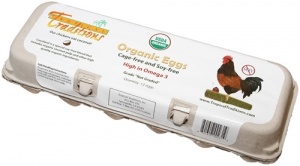 Purchase soy-free organic eggs!
Published on July 3, 2012