by Jessica Espinoza
For anyone who wants to live a healthier life and reduce their exposure to toxins, the first place to look is at our health and beauty products. Commercial products like shampoos, body washes, and soaps are often loaded with toxic chemicals that, with long-term exposure, can create a variety of health problems.
Finding replacements for these products can sometimes be frustrating. Making your own versions of them at home is the best way to control the ingredients and the quality of the end product. Plus, it is often more cost effective to make your own health and beauty products.
This recipe started out as just a shampoo recipe, but after using it on our hair, we quickly realized that it made a wonderful body wash as well. Long gone are those bottles of shampoo and body wash with 20, 30, or more ingredients. This homemade product works just as well, if not better, and only had 3 base ingredients, plus whatever essential oils you might want to add. You end up with a safe, non-toxic product that the whole family can use.
The three versions that I am sharing are just the tip of the iceberg when it comes to scent combinations. There is such a variety of essential oils available today, that you really can tailor the flavor combinations to suit your own preferences. Today, we will make tea tree shampoo (for dry, flaky scalps), an herbal blend shampoo and body wash, and a citrus vanilla mint shampoo and body wash.
It might seem strange not to have a conditioner to follow your shampoo, but I have found that my hair feels soft and smooth after using this coconut milk shampoo. I have no problems with tangles and my hair combs out easily. If you feel like you need a little additional conditioning, you can use a few spritzes of an apple cider vinegar (ACV) solution (1 cup of ACV and 1 cup of water). You could also use a very small amount of virgin coconut oil.
Homemade Coconut Milk Shampoo and Body Wash
Shampoo / Body Wash Base:
1/2 cup of Tropical Traditions organic virgin coconut oil liquid soap, unscented
1/3 cup homemade coconut milk
2 tsp. sweet almond oil
Mix all three ingredients together and place in a shower-safe bottle. I like the small plastic pump bottles or squirt bottles (look for BPA-free bottles). Before each use, you will need to shake the bottle gently to get the ingredients combined again, as the coconut milk will separate as it sits. When using, you don't need much. Depending on the length of your hair, as teaspoon might be the most you need. This shampoo lathers richly and a little goes a long way. For a body wash, use a little on a wash cloth or a shower pouf. The shampoo and body wash should keep 1 week in the shower. You can also store it in the fridge between uses to preserve it longer.
Tea Tree Shampoo
1 batch of the shampoo base
15-20 drops tea tree essential oil
10-12 drops chamomile essential oil
3-5 drops patchouli essential oil (optional)
Herbal Blend Shampoo and Body Wash
1 batch of the shampoo base
10 drops rosemary essential oil
8 drops lavender essential oil
6 drops chamomile essential oil
4 drops peppermint or spearmint essential oil
Citrus Vanilla Mint Shampoo and Body Wash
1 batch of the shampoo base
15 drops vanilla essential oil
10 drops sweet orange essential oil
6 drops peppermint essential oil
Virgin Coconut Oil:
How it has changed people's lives and how it can change yours!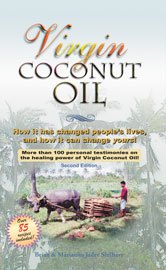 Published on September 3, 2012