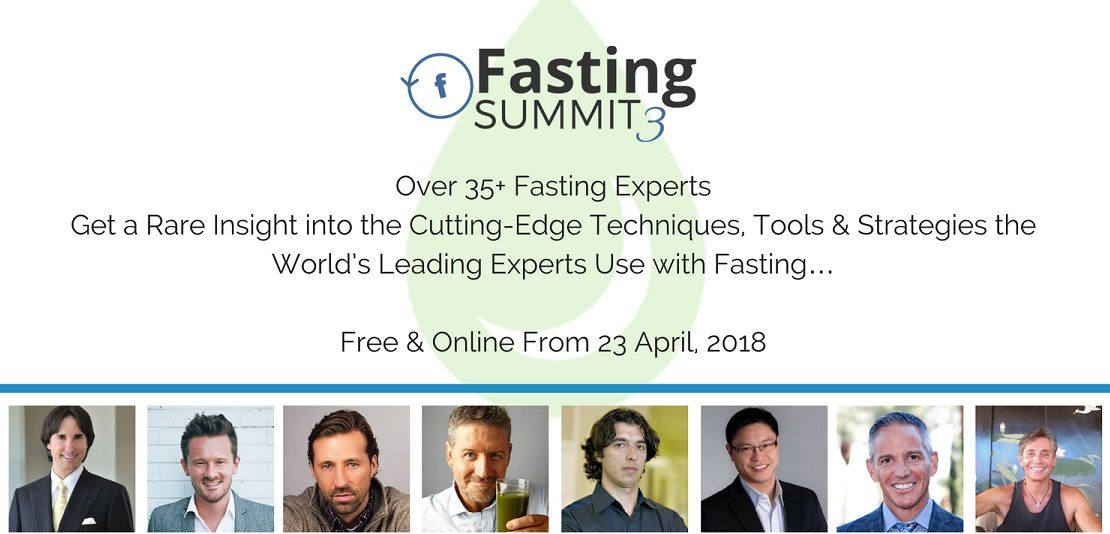 Discover this Free Series featuring Doctors, Nutritionists and Fasting Experts as they reveal the truth about how Fasting affects the body… And The Surprising Solutions That Can Help You Heal!
Health Impact News
Sam Asser is Host of The Fasting Summit, an online FREE Summit beginning Monday, April 23.
Fasting has been around since the beginning of time. It has been used over centuries for many different reasons, but today is often used as a way to purify and cleanse the body on a very deep level.
Sam has interviewed over 70 leading health and wellness experts like Dr Fuhrman, Joe Cross, Dr Michael Greger, Tyler Tolman, Dr Gabriel Cousens, Melissa Ambrosini, Marc David, Dr Jockers, JP Sears and many more.
Many of the expert guests in this free online event have helped people to reverse disease, fight fatigue, lose weight and ultimately become empowered to live their truth with the powers of fasting.
Here is the schedule for this FREE Event:
Day 1: Fasting Fundamentals
– Prof. Valter Longo: Fasting Mimicking Diet
– Tony Boutagy: Fasting and Exercise
– Dr Demartini: Fasting with Purpose
– Emily Manoogian PhD: TRE & Circadian Rhythm
– Neil Martin: Fasting, Juicing, and Mindset
– Dr Jay Davidson: Healing Chronic Disease with Fasting
Day 2: Intermittent Fasting Part 1
– Dr Jason Fung: Intermittent Fasting and Weight Loss
– Dr Will Cole: Intermittent Fasting and Hormone Connection
– Dr Daniel Pompa: Intermittent Fasting Effects
– Dr Daniel Kalish: Intermittent Fasting as a Spiritual Practice
– Dr Peter Osborne: Intermittent Fasting for Leaky Gut and Autoimmune
– Dr Joel Kahn: Fasting for Heart Disease + the Ideal Diet
Day 3: Intermittent Fasting Part 2
– Dr Michael Vanderschelden: The Science of Intermittent Fasting
– Dr David Jockers: Intermittent Fasting and the Ketogenic Diet
– Dr Justin Marchegiani: Intermittent Fasting Pros and Cons
– Dy Ann Parham: Intermittent Fasting for Women
– Lee Holmes: Fasting Your Way To Wellness with 5:2
– Ori Hofmekler: The Warrior Diet
Day 4: Extended Fasting Part 1
– Olivia Budgen: Juicing For Health
– Dr Gabriel Cousens: Juice Fasting for Detoxification
– Cherie Calbom: Juice Fasting for Physical Healing
– Joe Cross: Extended Juice Fasting
– Tegan Steele: The Impact of Fasting
– Jonny The Juicer: Juice Fasting for Immunity
Day 5: Extended Fasting Part 2
– Dan "The Life Regenerator" MacDonald: Purifying Mind and Body for Spiritual Evolution
– Dr Thomas Lodi: Fasting and The Human Mind
– Don Tolman: Ancient Fasting Wisdom
– Dr. Veronique Desaulniers: Healing Breast Cancer
– Dr Robert Cassar: Water Fasting and Parasites
– Andrea Paige: Fasting for Self Mastery
Day 6: Fasting Fundamentals
– Steven Prussack: Juice Up Your Career
– Chef Justin North: The Fasting Chef
– Rob Stuart: Fasting for Healthy Skin
– Dr Michael Ruscio: Intermittent Fasting and Gut Health
– Megan Ramos: Healing Chronic Disease
– Aliky Kouroupis: Fasting, Consciousness and Gut Health
– Tyler Tolman: Fast, Faster, Fastest Way To Heal
Sign up for FREE and reserve your spot!
Comment on this article at HealthImpactNews.com.
Published on April 22, 2018